NDA Exam 2023 – The National Defence Academy (NDA) is an exam conducted by the Union Public Service Commission (UPSC) for candidates who aspire to join the Indian Army, Navy, or Air Force. The exam is conducted twice a year, in April and November. Let's take a look at the details of the exam, eligibility criteria, syllabus, exam pattern, and mock tests.
Eligibility Criteria for NDA Exam 2023
Apart from the age, education qualification, nationality, and marital status mentioned earlier, there are some other eligibility criteria for the NDA exam, which are as follows:
Physical Standards: Candidates must be physically fit as per the prescribed physical standards. The physical standards include height, weight, chest measurement, and visual acuity.
Number of Attempts: Candidates can attempt the NDA Exam 2023 a maximum of six times, provided they fulfil the eligibility criteria.
Medical Standards: Candidates must be medically fit as per the prescribed medical standards. The medical standards include physical fitness, eye-sight, hearing, and mental health.
Age: Candidates must be between 16.5 and 19.5 years of age on the first day of the month in which the course is scheduled to commence.
Education Qualification: Candidates must have passed 10+2 with Physics and Mathematics as compulsory subjects. Candidates appearing in 10+2 can also apply for the exam.
Nationality: Candidates must be Indian citizens, subjects of Nepal or Bhutan, or Tibetan refugees who came to India before January 1, 1962, with the intention of settling permanently in India.
Marital Status: Only unmarried male candidates are eligible to apply.
NDA Exam Syllabus
The NDA Exam 2023 consists of two papers: Mathematics and General Ability Test (GAT).
Mathematics Syllabus:
Algebra: Concepts of sets, operations on sets, Venn diagrams, De Morgan laws, Cartesian product, relation, equivalence relation, functions, real numbers, complex numbers, quadratic equations, arithmetic, geometric and harmonic progressions, logarithms, and their applications.
Matrices and Determinants: Types of matrices, operations on matrices, determinants and their properties, and solutions of simultaneous linear equations using matrices.
Trigonometry: Angles and their measures in degrees and radians, trigonometric ratios, trigonometric identities, inverse trigonometric functions, and applications of trigonometry.
Analytical Geometry: Two-dimensional coordinate geometry, three-dimensional coordinate geometry, distance formula, section formula, equation of a line, the angle between two lines, distance of a point from a line, equation of a circle, tangent and normal to a circle.
Differential Calculus: Concept of a real-valued function, limits, continuity and differentiability, derivative, chain rule, a derivative of implicit functions and functions defined parametrically, mean value theorem, tangent and normal, maxima and minima, second derivative, rate of change of quantities, and applications of derivatives.
Integral Calculus: Integration as inverse of differentiation, integration by substitution and by parts, standard integrals involving algebraic expressions, trigonometric, exponential, and hyperbolic functions, and their inverses, integration of rational, irrational, and trigonometric functions, definite integrals and their properties, evaluation of definite integrals, and applications of definite integrals.
Vector Algebra: Vectors in two and three dimensions, magnitude and direction of a vector, unit, and null vectors, addition of vectors, scalar multiplication of a vector, scalar product or dot product of two vectors, vector product or cross product of two vectors, and applications of vectors.
General Ability Test Syllabus:
English
General Knowledge
Physics
Chemistry
General Science
Social Studies
NDA Exam Pattern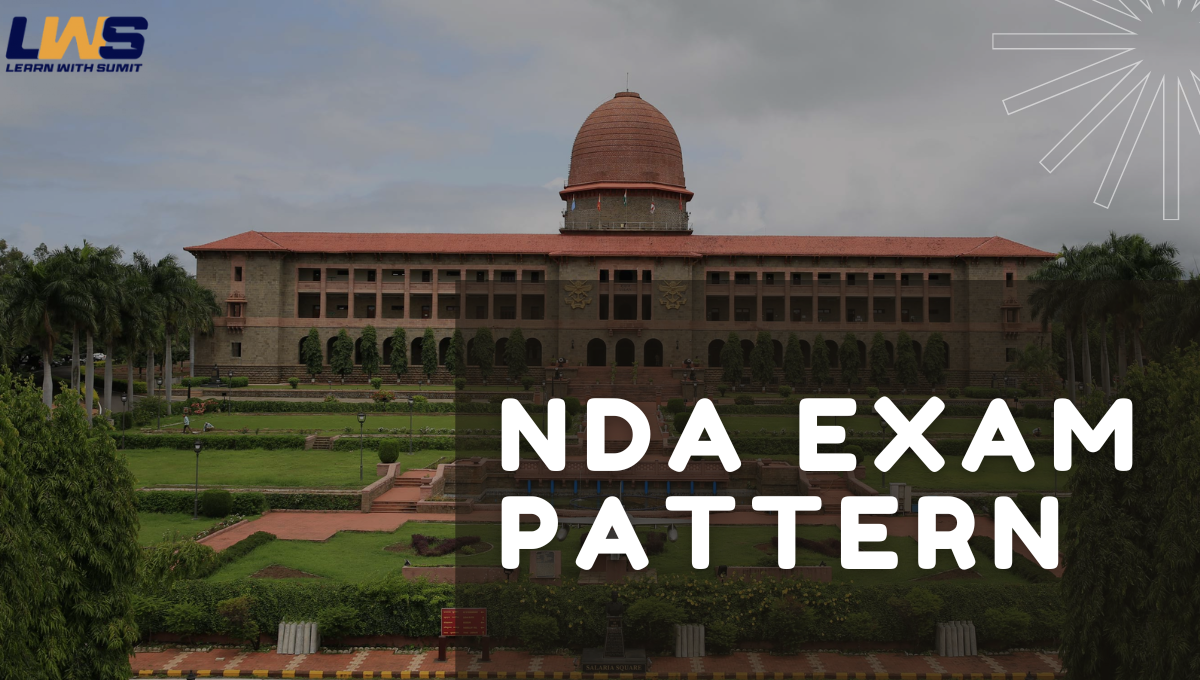 The NDA Exam 2023 is conducted in two stages: A written Test and SSB Interview.
Written Test:
The exam consists of two papers: Mathematics (300 marks) and General Ability Test (600 marks).
The duration of each paper is 2.5 hours.
The exam is conducted in offline mode (pen and paper-based).
The mathematics paper consists of 120 questions, while the GAT paper consists of 150 questions.
For every incorrect answer, 1/3rd of the marks will be deducted as negative marking.
SSB Interview:
Candidates who qualify for the written test will be called for the SSB Interview.
The SSB Interview consists of two stages: Stage 1 (Officer Intelligence Rating, Picture Perception, and Description Test) and Stage 2 (Psychological Testing, Group Testing, and Interview).
The SSB Interview is conducted for a total of 900 marks.
NDA Mock Test
To prepare for the NDA Exam 2023, candidates can take mock tests. Mock tests help candidates to understand the exam pattern, syllabus, and marking scheme. Various websites provide free NDA mock tests, such as Textbook, Grade up, and Olive board.
NDA Exam Details
The NDA Exam 2023 is conducted twice a year, in April and November. The exam notification is released by the Union Public Service Commission (UPSC) in the months of January and June. The application process for the exam is done online, and the admit card is also released online. The NDA Exam 2023 is conducted in various cities across India.
The NDA exam is highly competitive, and the selection process is rigorous. Candidates who qualify for the written test are called for the SSB Interview, which is conducted for a period of five days. The SSB Interview is designed to test the candidate's mental and physical fitness, leadership qualities, and compatibility with the Armed Forces.
After the SSB Interview, the final merit list is prepared based on the candidate's performance in the written test and SSB Interview. Selected candidates are then trained at the National Defence Academy for a period of three years, followed by one year of training at the Indian Military Academy (IMA), Indian Naval Academy (INA), or Air Force Academy (AFA).